The Distinguished Gentleman's Ride celebrates 10 years of riding dapper for men's health!
The Distinguished Gentleman's Ride is calling on riders all over the world to celebrate its 10 year anniversary this Sunday, 23rd of May, 2021.
2021 marks a historic year for the global motorcycling event, The Distinguished Gentleman's Ride (DGR). This is the first year running on the new annual date in May. Since 2012, the event has connected hundreds-of-thousands of classic and vintage style motorcyclists from over 100 countries around the world and to-date has raised $27.45M USD for men's health. In 2021, the DGR looks to raise a further $2.55M USD for charity beneficiary Movember, bringing its decade of fundraising to a grand total of $30M USD.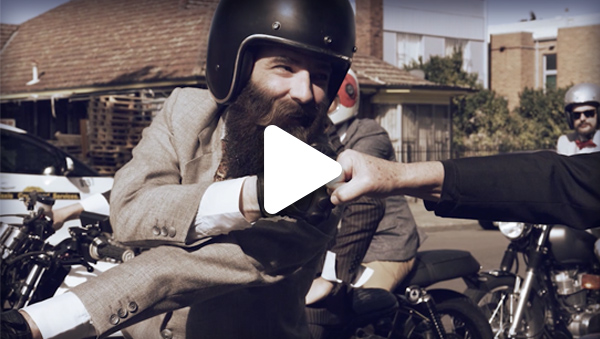 Founder of The Distinguished Gentleman's Ride, Mark Hawwa, reflects on 10 years of the event, on the new date, and why 2021 is so important for riders to register for this year's event:
"It's unfathomable to think that 10 years ago, an idea to bring a few dapper men and women together on classic bikes to change the stereotypes of motorcyclists went viral. Since then, we've made so many incredible connections and met so many inspiring people; all while raising a huge amount of funds and awareness for men's health, on behalf of Movember. This year is a little different to most. Similarly to last year, with so many cities still under restrictions, we need to consider the safety of our global community. We look to organize COVID-safe events where possible, and for those who can't, we encourage you to connect digitally and ride solo for men's health and help us celebrate a decade of the event. To help in that excitement, we have some incredible prizes on offer for including a custom 1-of-1 DGR x Triumph motorcycle. We may not be able to celebrate together all around the world, but it sure won't stop us from connecting with our amazing community of dapper riders and remembering all the good we've done in the last 10 years."
The event for 2021 boasts some of the most amazing prizes yet, with four brand new motorcycles from major partner Triumph Motorcycles. One of these motorcycles will be a custom, 1-of-1 DGR x Triumph motorcycle, made only for the winner of the 2021 Gentlefolk Competition. Adding to the incredible Triumph prizes, are custom top 50 fundraiser helmets courtesy of Hedon helmets with a very special design to commemorate the event's 10th year anniversary. They have also offered up 10x hedonist helmets, which will be custom-painted by 10 well-renowned artists and auctioned off during the campaign. Returning in 2021 are Belstaff, taking the mantle of the event's motorcycle outfitter partner, providing classic motorcycle outfits for top fundraiser and sprint prizes for event fundraisers.
JC, Movember's co-founder:
"The last twelve months has been a difficult time for everyone, but we have seen that during adversity a sense of togetherness is more important than ever. The DGR community united last year overcoming physical barriers, riding dapper and going all out for Movember and men's health. As we move forward in 2021 it will unfortunately be evident that in the aftermath of the pandemic some men will be more fragile and at risk than ever before. As a result, we will lose fathers, brothers and sons to prostate cancer and suicide.

DGR is an essential part of helping Movember to fund prostate cancer research and mental health programs that will save the lives of men. Now more than ever we need the DGR community to ride dapper and donate to the cause to stop men dying too young"
Paul Stroud, Triumph's Chief Commercial Officer:
"We at Triumph are proud to be the main partner for The Distinguished Gentleman's Ride for the 8th consecutive year, and are also delighted to be celebrating the 10th-year anniversary of the initiative overall. Our relationship with the DGR is an incredibly important partnership – raising funds and awareness to fight prostate cancer and support men's mental health is important to both Triumph and riders. As ever, progress to raise awareness and support is even more effective when it's a lasting partnership where we can improve and evolve our collective activity year on year."
Funds raised from the previous events are being invested by Movember in prostate cancer research and mental health programs that will save the lives of men. DGR are particularly excited by our continued investment into initiatives focussed on supporting social connections of men in motorcycling, and the first responders who have worked tirelessly to keep their communities safe.
To register, fundraise, and support the wonderful work that DGR do, head over to www.gentlemansride.com and celebrate 10 years of riding dapper in the world's most stylish motorcycle event!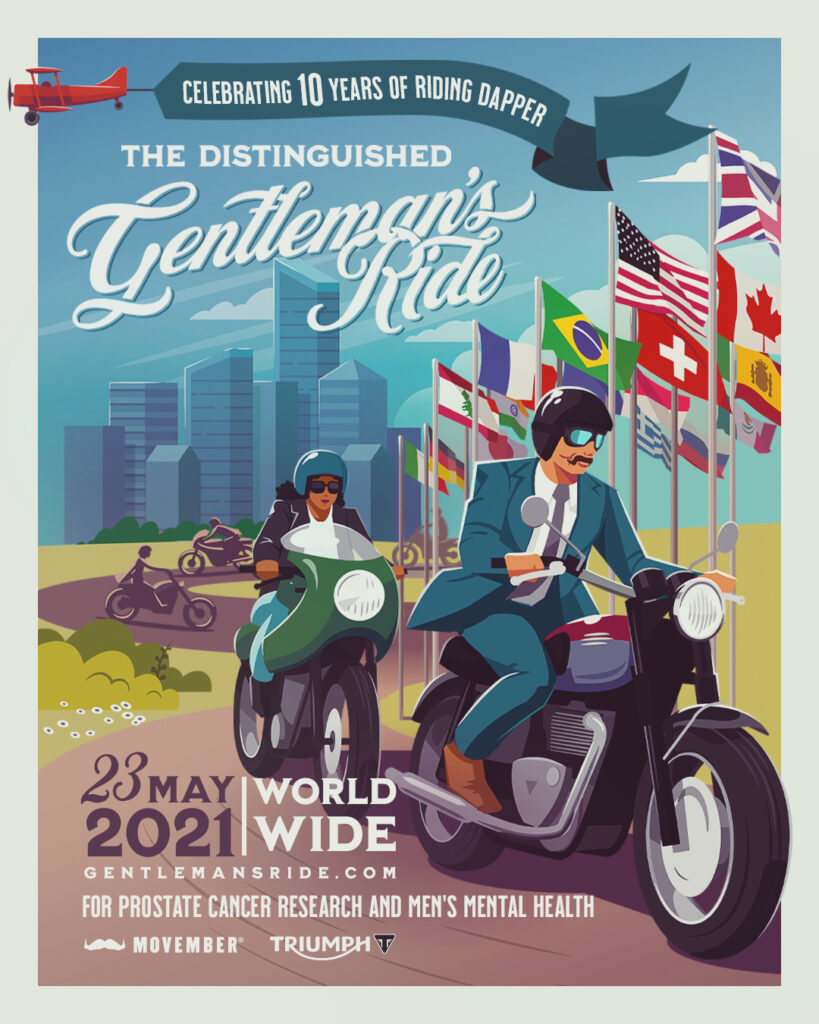 ---
Our Partners
The Distinguished Gentleman's Ride
The Distinguished Gentleman's Ride unites classic and vintage style motorcycle riders all over the world to raise funds and awareness for prostate cancer research and men's mental health. The Distinguished Gentleman's Ride was founded in Sydney, Australia in 2012 by
Mark Hawwa. After inspiration from a photograph featuring classic suits and vintage motorcycles, Mark decided a themed ride would be a great way to combat the often-negative stereotype of motorcyclists and connect the global motorcycling community and to raise funds for a cause important to every rider. For more information, visit www.gentlemansride.com.
MOVEMBER
Movember is the leading charity changing the face of men's health on a global scale, focusing on mental health and suicide prevention, prostate cancer and testicular cancer.
The charity raises funds to deliver innovative, breakthrough research and support programmes that enable men to live happier, healthier and longer lives. Committed to disrupting the status quo, millions have joined the movement, helping fund over 1,250 projects around the world. In addition to tackling key health issues faced by men, Movember is working to encourage men to stay healthy in all areas of their life, with a focus on men staying socially connected and becoming more open to discussing their health and significant moments in their lives. The charity's vision is to have an everlasting impact on the face of men's health. To donate or learn more, please visit Movember.com.
TRIUMPH
First established in 1902, Triumph Motorcycles celebrated 118 years of motorcycle
manufacture in 2020. For more than three decades, Triumph Motorcycles has been based in Hinckley, Leicestershire, and has produced iconic bikes that perfectly blend authentic design,
character, charisma and performance. The Triumph Modern Classic motorcycle family represents the quintessence of The Distinguished Gentleman's Ride spirit: elegant, iconic, characterful, and built for the ride.
BELSTAFF
Belstaff is the essential outfitter for the modern adventurer. With a heritage of technical innovation rooted in the north of England, the company started life by kitting out some of the most daring people the world has seen. Belstaff still makes the jackets they wore today, and still fits-out questing individuals in an array of products that combine respect for the past with a hunger for future opportunities. Technically excellent, beautifully crafted British design and know-how lies at the heart of Belstaff, and pieces range from robust, high-performance wear to perfectly judged items for more everyday adventures. Rigorously designed, effortlessly good-looking, Belstaff is simply built for contemporary life.
ELF
ELF is a brand of TOTAL, the world's 5th international oil company, which is present in 150 countries. Very strong brand awareness among automobile experts wherever the brand is available. Buying an ELF product means having the assurance and reliability of an established brand. The ELF's quality is based on a very strong experience in motorsports. ELF is firstly known for more than 150 Formula 1 victories.ELF products proved measurable benefits with regard to longevity and engine protection.
ELF products are sold in 113 countries. ELF has dedicated lines of lubricants for cars, motorcycles and heavy duty vehicles.
HEDON
Hedon – derived from the word Hedonism: the relentless search for pleasure. Hedon's goal is simply to provide the most pleasant experience on everybody's journey for Hedonism. Tired of conventional style, Hedon set out on a mission to rethink the urban rider's protective headgear looking for something bold, refined and nostalgic with comfort as a driving point above all else. A necessary accessory for the discerning rider.
Each Hedon helmet has its own unique signature marked in their definitive style and distinctive materials they are crafted from. A fine blend of the old and the new, deftly forged using traditional craftsmanship along with modern technology. They believe when form and function come together seamlessly, style is effortless.